Prayer & Meditation
Dec 10
Seasons
"Curb your speech. Restrain your mind. Commit no evil deed." - Buddha
"And he whose leader is the light of God will not be slave to causes or effects." - Rumi
"[…] we went through fire and water, but you brought us to a place of abundance." - Psalm (NIV)
(written this last spring)
Father, thank You for Your faithfulness.
Thank You for Your unfailing love.
Thank You for the hope in Your providence.
Thank You for this bright spring day
   and gentle west wind.
For the dove that greeted me in the morning.
For the feeling and thrill of goosebumps
   under the shade trees.
Thank You for the glistening waters and the bright blue sky.
Every spring declares the sanctity of resurrection.
Every autumn the glory and splendor of life well lived.
The winter shows the clarity and whiteness of dying to ourselves.
And summer is the warmth and tender care of Your light. 
       Selah.
Dec 09
Shape & Form
"If love were merely thought and merely meaning, your prayer and fasting would not have a form." - Rumi
"May God be gracious to us and bless us and make his face shine upon us." - Psalm (NIV)
Shine Your face upon us, Lord.
Bring shape and form to Your loving kindness.
Make Your Word descend in bodily form.
Fill our spirits with peace.
Fill our hands with right works.
Fill our minds with right thoughts.
We lift our voices in praise.
(Sometimes this life causes us to tremble.)
Surround us with the presence and
   bearing of the Saints.
       Selah.
Dec 05
What is the Bible? Part 19: The Verse That Blows The Roof Off The Joint -
Best description of Redemption and Biblical Renewal I've ever seen. If you're not following Rob Bell's series on "What is the Bible?" I highly recommend it!
Start at Part 1 of this Series

What is the Bible?
Part 19: The Verse That Blows The Roof Off The Joint

Fasten your seat belts, friends.

It's written in the first chapter of the Apostle Paul's letter to the Ephesians

..he made known to us the mystery of his will…
Dec 04
The Great Weight
"The person who reaches the sacred, the inexpressible, who has permeated his mind with it, who is in control of his senses, is one bound upstream." - Buddha
"So you will need resolve like Solomon's to escape the hundred thousand scents and colors. And even with the strength of will he had, the waves of that dominion smothered him." - Rumi
"Praise be to the Lord, to God our Savior, who daily bears our burdens." - Psalm (NIV)
Without You, Merciful Father,
I have no such strength of will
   to resist the scents and colors of sin.
You enfold us with wisdom and loving kindness.
You bear the great weight -
  the mass of human suffering.
You forgive even when we can't.
Thank You for Your unfailing love.
Thank You for Your never-ceasing mercies.
       Amen.
Dec 03
Long Years
"Speak the truth, control anger. Share even from your meager store. These three steps lead to the presence of the 'Shining Ones.'" - Buddha
"Long years are needed in the sun until the ruby gains its lustre, hue and shine." - Rumi
"Praise be to God, who has not rejected my prayer or withheld his love from me!" - Psalm (NIV)
Father, I feel uneasy.
I'm running out of money.
I am afraid of going hungry.
I am afraid of not being able to provide for my loved ones.
I know You've taught us not to worry.
I'm sorry.
I have a dread-fear that this "now" will turn out again like that "then."
Please continue to redeem my life and finances.
Thank You for Your continued guidance and grace.
Restore vision and hope within my spirit.
Thank You for Your perfect timing
   and Your faithfulness amidst my uncertainty.
       I love You,
       Amen.
Dec 02
God Who Saves
"If one speaks or acts with a serene mind, happiness follows as surely as one's shadow." - Buddha
"Love draws the bitter ones toward the sweet, for rightful guidance is the root of loving." - Rumi
"Praise be to the Lord, to God our Savior, who daily bears our burdens. Our God is a God who saves [….]" - Psalm (NIV)
Lord God, 
Please fill my heart and mind with good things.
Permeate my spirit with Your will.
   Love isn't insular.
   Teach me to love according to Your ways.
Please rescue me from this low-lying fate.
Please provide my needs
   and guide me to right places
      and right livelihood.
I am very lost on my own.
       I love You,
       Amen.
Nov 28
"

Emergence.

Another truth of life is that we cannot always see progress. We mostly cannot see progress.

That's because it's happening under the surface.

Truth of life. Here's another one: things can take time to emerge, and we don't always know how long (or how miraculously quickly, in some cases) that will be.

So we think we're procrastinating when actually what is happening is percolating.

We think we are late or behind or not good enough or avoiding, when actually we are emerging. The thing that is coming is emerging.

We turn emergence into emergencies. We think something is terribly wrong because we can't see 'results', and then we panic. The results are emerging.

Guilt makes it hard to see what is emerging. Letting things take their time makes it easier.

This is sometimes called experimenting, and sometimes it is called embracing, two words that begin with E.

Also known as 'it is easier to change course if I am not blaming past-me for the current course.'

" — Havi Brooks from The Fluent Self Blog
Nov 27
This mandala blooms and buds to flower in spring. It reminds me that life is connected to the sun, moon and stars.
Original Ink Drawing now on Etsy.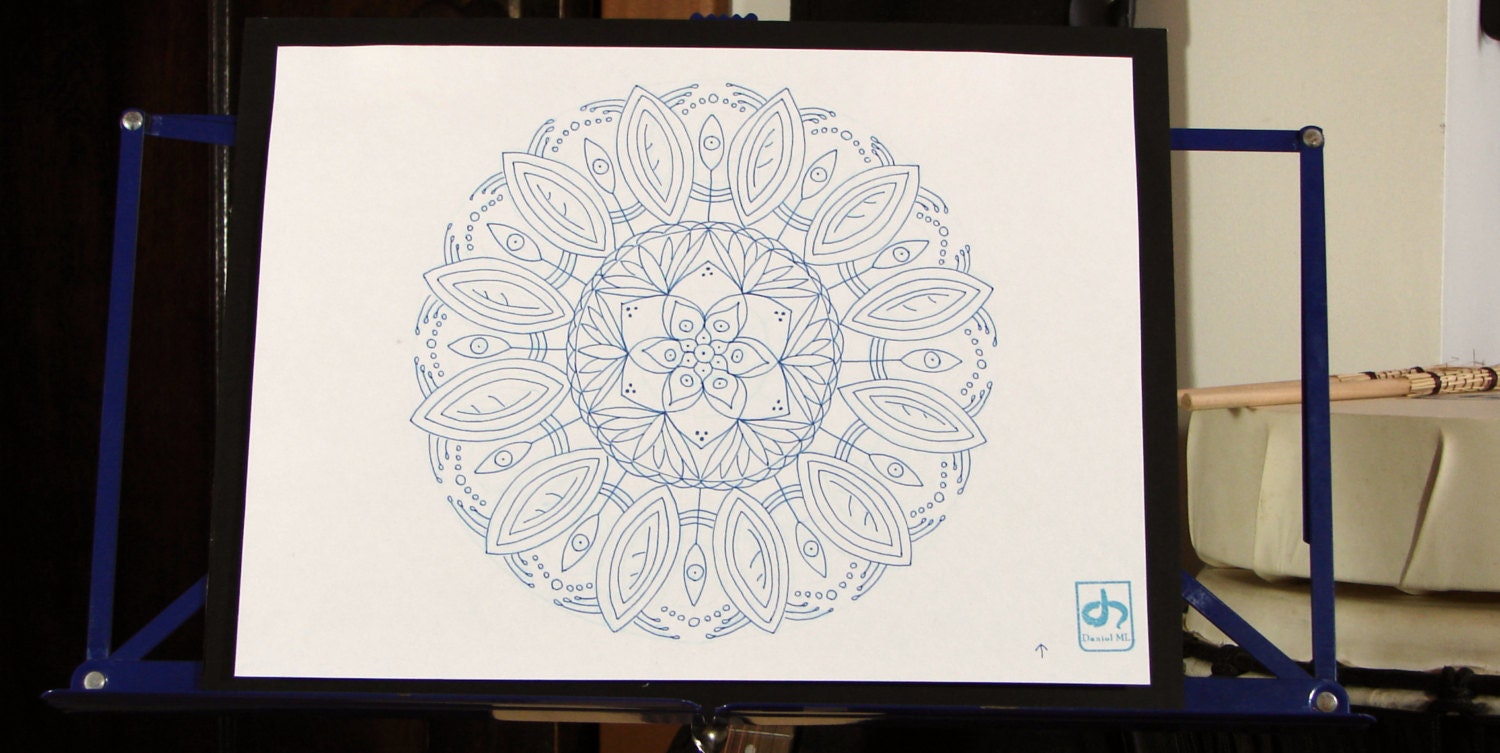 Spontaneous Droplets
"To be considered truly an elder a man must practice truthfulness, righteousness, harmlessness, restraint, and self control, be free of stain and rich in wisdom." - Buddha
"It rained in droplets and he was amazed - spontaneous droplets from the sea of grace." - Rumi
"For you, O God, tested us; you refined us like silver." - Psalm (NIV)
Thank You, Lord, for the blessing of Your spontaneous grace.
Thank You for lifting us out of despair.
Thank You for continuing to provide our needs.
   Please continue to provide.
   Please lead us on the path of Your will.
   Please continue to form this space in which we dwell.
Life is challenging.
Filled with uncertainty.
Many people are cruel.
       Continue to fill us with grace and forgiveness.
       I love You,
       Amen.
Nov 26
Mountain Streams Mandala 
Original painting now on Etsy.